Beer bath Glokner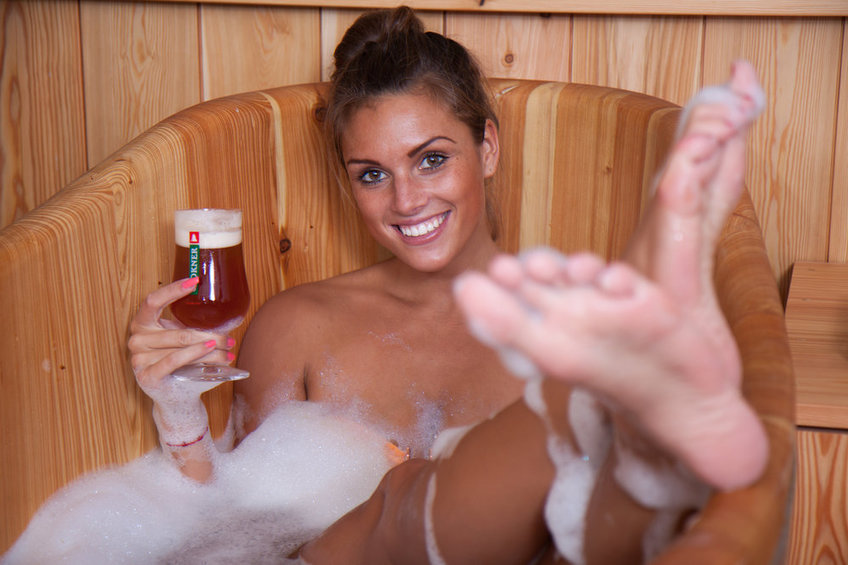 CZK 800,- / per person
The baths take place in larch tubs in a room with a shower and deckchairs for 2 people. Beer baths warm up your joints, help your muscles relax and is also used to treat a variety of skin diseases. We add a sufficient quantity of live cultures of brewer's yeast to the bath, which is a natural source of protein, carbohydrates, and especially vitamin B.
The bath is prepared in special larch vans made for this purpose, which adds to the experience which the client feels during the procedure. Beer bath consists of 30 litres of special Glok beer, which is brewed specifically for the spas. 1.4 litres of brewer's yeast type H from our brewery is also added, as well as other raw materials for the benefit of your skin. Our room is unique, natural and pure, just like our beer, Glok. The water temperature is pleasant 38° C.
The recommended bathing time is 30 minutes, then a dry pack (sheets + blanket) is recommended, and a 20-minute relaxation, to give the nourishing ingredients time to be absorbed into your skin.
Throughout the procedure, you can enjoy our domestic beer, GLOK 12° pale lager, in unlimited quantities. The bath is suitable for people suffering from dry skin, and people suffering from stress, fatigue and exhaustion. It is not suitable for seriously ill people and pregnant women.
The procedure can be extended by a massage and draff packs.