Order chocolate
Come to visit a chocolate factory with a tasting...
Assortment of products
PRALINES
DUETINO - Adult´s series
chocolate bars 50g, 108g and 235g – basic series of white, milk, dark and 70% chocolate, additional flavors such as white with matcha tea, white crocantino, dark with chilli, etc.
box of 3,4,6,14 pralines - a mix of pralines with creamy filling, with or without alcohol
special pralines with Svach´s Gin or Svach´s whisky
Duet – gift box containing products from our Distillery and chocolatery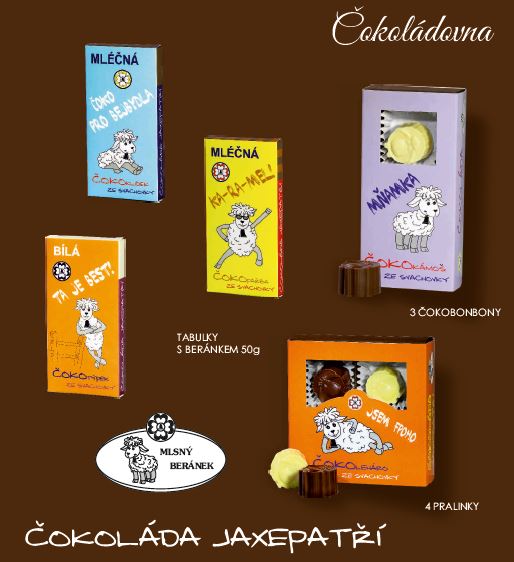 MLSNÝ BERÁNEK (Sweet Tooth Lamb)
- Childen´s serie
Chocolate bars 50g of white, milk or caramel chocolate
box of 3 pralines or a mix of 4 pralines with creamy filling
WEDDING OFFER
Wedding pralines with print as a present for guests or printed chocolate table labels. We can also offer a chocolate fountain, sweets table and cakes.
CORPORATE BRANDING
On request, we can provide our products with your company logo. We also make personalised products on request for hotels, restaurants, fairs, wedding agencies, etc.