Order destillates
Come on a tour around the distillery with a tasting
Assortment of our products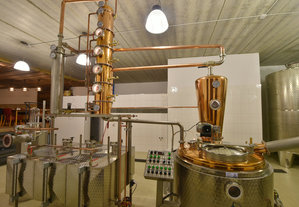 Fruit brandies are based on the experience of established Moravian distilleries, where they distill high-quality pear brandy, plum brandy and more. Fermentation is controlled and takes place in stainless steel fermentation tanks.
Whisky distilled twice, as it is in Scotland.
For distilling fruit spirits and whisky, we have technically adapted the distillation column and the Dome of spirit vapors. And also in this case, the quality of the distillation will be based on a thorough inspection of the process.
Our crazy dream and the desire to create a delicious, beautiful and high-quality whisky, fruit distillates is what we subordinate everything to, from the choice of technology and construction, strict selection of raw materials, to the choice of containers for storage, ripening and maturation. The handpicked and strictly controlled are bought from the Czech Republic or Slovakia. Our malt will be barley, rye and smoked malt from the Czech Republic, Germany and Scotland. Yeasts we buy is purchased directly for making fruit spirits and whisky.
Maturing of the products will take place in wooden oak barrels from Tennesse, France, Austria and Beskydy Mountains. One part of our production will ripen in glass or stainless steel containers.
Come take a look around our distillery, you will see an extraordinary and original dream of a group of enthusiasts from Svachovka coming true. We will be glad to share our story with anyone.